Water Soluble fertilizer
CAS No:

Formula:

N+P2O5+K2O

Molecular Weight:

Hazardous Classification: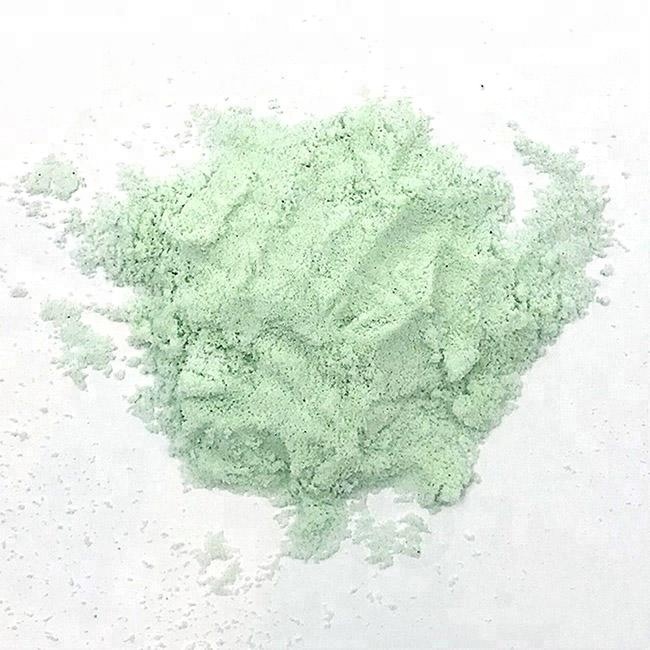 General Information:

Technical Data sheet:
All percentages are by weight unless otherwise specified.
(10 ppm = 0.001%)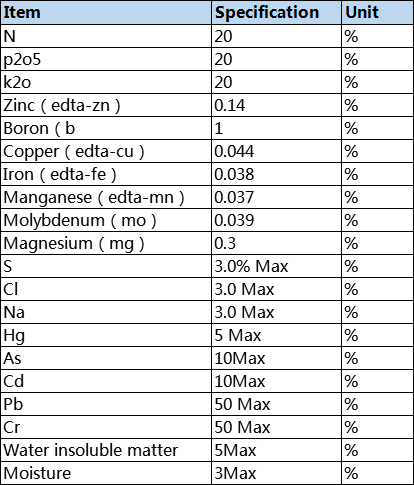 Product Function:
This product which can be used in the whole growth cycle of the crop. This product can supply nutrients needed by the crops quickly, promote crop growth, make its stem stout, developed the root system, enhance crop resistance, promote flower and fruit, increase crop yields and improve crop quality have a significant effect.
Advantage:
1. All water soluble and fast dissolved, fully meet the demanding solubility of fertilizer, such as drip irrigation and sprinkler irrigation.
2. This product contains all the nutrients of a large number of elements, and the nutrient distribution ratio is balanced. At the same time, a large amount of nutrient elements can be added to the growth of the crops.
3. Three types of nitrogen (ammonium, nitrate and amide) are rich in nitrogen, which are easily absorbed, fast and effective.
4. The product contains trace elements and exists in the form of chelate state, and it can supplement trace elements effectively for the crop at the same time.
5. This product is made of high quality raw materials. It does not use raw materials containing chloride and sodium ions, and it is suitable for all kinds of chlorine ,fruit and vegetable crops. It can effectively guarantee crop quality and do not need to worry about toxic effects..
6. Ph value is neutral partial acid, strong stability and can be mixed with most materials.
7. The heavy metal content of this product is very low, fully meet the quality requirements of organic food and fertilizer.
Recommended crops: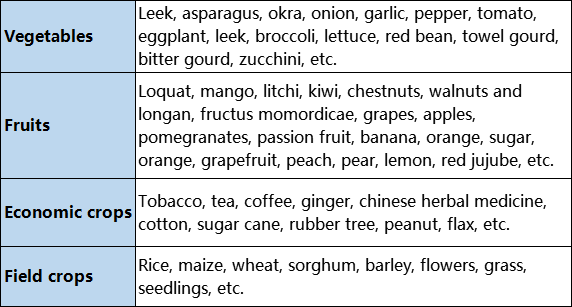 Usage: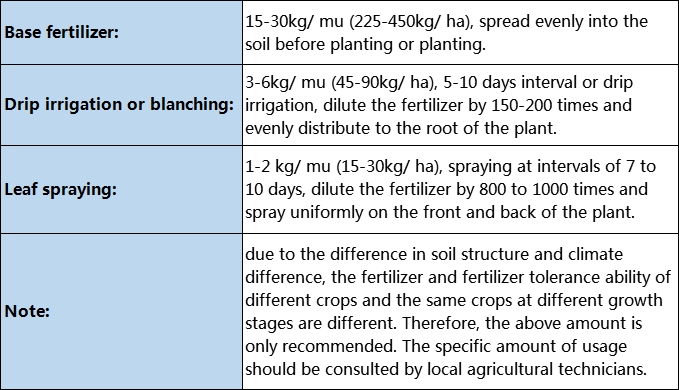 Matters needing attention:
1. This product is non-food and is not edible. Please seek medical advice immediately.
2. Keep it in a cool, dry and inaccessible place.
3. Avoid spraying the product in direct sunlight or high temperature.
4. Avoid the use of rain on rainy days, usually after 10 a.m. Or after 4 p.m.
5. The product is easy to absorb moisture, and the caking after the moisture absorption does not affect the product use effect.
services
We offer professional services.

1. Provide quality products at reasonable prices and provide market information to customers on a regular basis.

2. Order confirmation, all-round tracking of goods.
In accordance with customer requirements in a timely manner arrangements for orders and transport, according to different product export policy to provide a complete declaration.
According to your request packaging, before shipment with photos.
3. Quality control, pre-shipment, free samples for testing. After shipment, save for 1 year.