Description:


Product Name: Potassium Hydroxide

Chemical Name: Caustic Potash

Chemical Formula: KOH

CAS No.: 1310-58-3

EINECS No.: 215-185-3

HS Code: 28152000

Hazardous Classification:8

Molecular Weight: 56.1

UN No.: 1813

Appearance: White Flakes




Physical information: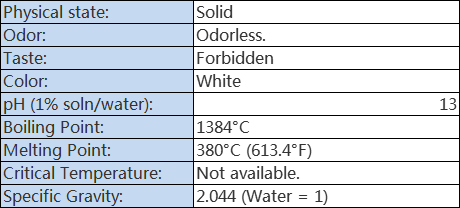 Specification:



Applications:


Potassium hydroxide mainly used in alkaline batteries industry, high-class detergents and cosmetics. Industrial soaps, potassium chemicals, medicine intermediate, synthetic rubber, ABS resin, natural rubber latex, dyestuffs, zymolysis and food additive and so on.




Handling and Storage:

Potassium hydroxide is a highly corrosive substance and requires careful handling. There should be no contact with bare skin. Caustic Potash flakes should be stored under dry conditions away from acids, organic chemicals, metals such as aluminum, tin, zinc, lead etc and their alloys.
Trait Service:
-Prompt reply & instant communication available
-Customerized packaging
-Shared freight for sample delivery
-Photos all-the-way for cargo tracing after order confirmation